What is a mummy makeover?
Many women are faced with profound changes in their bodies after pregnancy, and sometimes diet and physical exercise are not enough to regain the desired body shape. The areas of the body that are typically most affected are the abdomen, with the appearance of stretch marks and loss of muscle tone; the breasts, which can lose volume, appear less firm or sag; and other areas of the body where fat deposits have accumulated.
The moniker 'mummy makeover' refers to a series of surgical procedures that can help women who have gone through one or more pregnancies achieve a figure similar to the one they had before giving birth.
Mummy makeovers can help counteract these unwanted changes by combining the most appropriate procedures to help women feel better about themselves, improve their well-being and self-esteem.
Depending on what patients want to achieve, there are different cosmetic procedures that can be performed. In this article, we are going to give you an overview of how a mummy makeover works, who it is for, what recovery looks like, and how you can prepare for these treatments.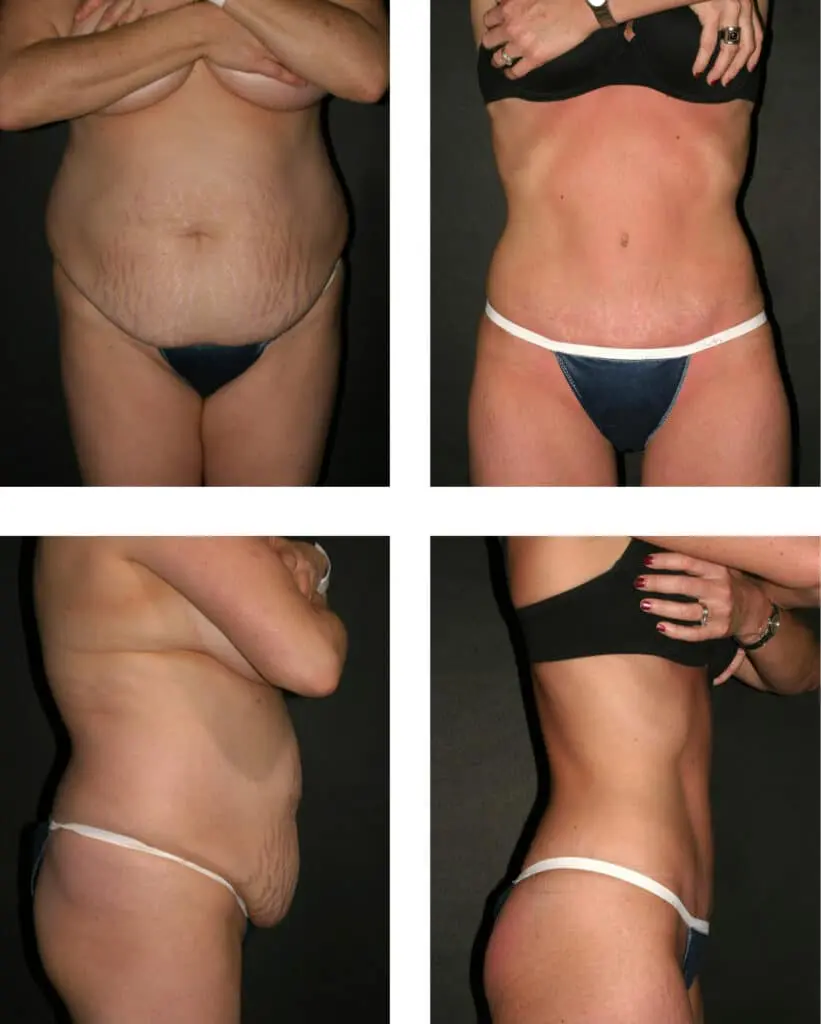 Everything You Need to Know About a Mummy Makeover Surgery
Pregnancy and childbirth can bring about significant changes to a woman's body, and a Mummy Makeover presents a comprehensive solution to address these physical transformations. This transformative procedure aims to boost self-esteem, restore the pre-pregnancy figure, and rectify the physical effects of pregnancy, including stretch marks, loose skin, and abdominal muscle separation.
A Mummy Makeover surgery also contributes to improving physical health and enhancing attractiveness. In this blog, find out who is a good candidate for the procedure, what it entails, including costs, and learn some tips about the recovery and after care.
What is included in a mummy makeover?
A mummy makeover includes two or more surgical procedures that typically address the breasts and the abdominal area. While it may be possible to undergo these procedures simoultaneosly, it is generally recommended to perform them one by one. You will discuss with your surgeon what the best course of action is in your case. Here's a rundown of the cosmetic procedures that can be included in a mummy makeover.
Breast augmentation
Breast implants can help you get a more defined shape and better contour. After pregnancy or breastfeeding, breast may lose volume or look slightly different from one another. Breast implants come in different shapes and sizes; you will choose the most appropriate ones with your surgeon. Breast implant surgery, also known as boob job, involves inserting one implant in each breast and is carried out under general anaesthesia. Breast implants can be filled with silicone or with a saline solution.
Breast reduction
If, instead, you'd like to reduce the size of your breasts, breast reduction (reduction mammaplasty) might be a good solution for you. This procedure involves removing fat, skin and glandular tissue from your breasts in order to achieve an improved, more proportionate look. Large breasts can cause physical discomfort due to their weight and many women decide to undergo this type of surgery to alleviate pain. Breast reduction during a mummy makeover helps mothers restore their pre-pregnancy look and can be combined with a breast lift procedure.
Breast lift
Pregnancy and breastfeeding can cause your breasts to sag, lose elasticity, and your nipples to point downward. This typically happens because your skin stretches as your breasts become fuller and heavier. A breast lift, also known as mastopexy, is a surgical procedure that can lift and change the shape of your breasts. The procedure involves trimming any excess skin and repositioning your breasts as desired. A breast lift is carried our under general anaesthesia and can be combined with a breast reduction.
Tummy tuck
A tummy tuck, or abdominoplasty, is a surgical procedure that involves removing excess skin and fat from the abdominal area. There are different types of tummy tuck procedures, depending on the amount of fat and skin that needs to be removed. You will discuss with your surgeon what procedures best suits in your case.
Liposuction
Liposuction involves removing deposits of fat from specific areas of your body, including the abdomen, hips, thighs, arms, neck or buttocks. Liposuction can also countour these areas and is performed using a suction technique.
Why do people have Mummy Makeover surgery
There are numerous reasons why women choose to undergo a mummy makeover. Some common motivations are:
Enhancing self-esteem
Pregnancy and childbirth can significantly impact a woman's body, often leaving them feeling self-conscious about their appearance. A mummy makeover can effectively address these concerns, helping women regain their confidence and feel comfortable in their own skin.
Restoring pre-pregnancy figure
Many women aspire to regain their pre-pregnancy weight and shape after giving birth. A mummy makeover can be instrumental in achieving these goals, facilitating weight loss and restoring their desired physique.
Correcting physical changes caused by pregnancy
Pregnancy can lead to various physical changes, such as stretch marks, loose skin, and abdominal muscle separation. A mummy makeover offers a comprehensive solution to address these physical changes, ultimately enhancing a woman's overall appearance.
In addition to these primary reasons, there are other factors that contribute to the decision to undergo a mummy makeover:
Improving physical health
Some women experience difficulties in exercising or performing daily activities post-pregnancy due to abdominal pain or discomfort. By addressing these issues, a mummy makeover can alleviate such problems and improve a woman's overall physical health.
Enhancing attractiveness
Many women report feeling more attractive after undergoing a mummy makeover. This boost in self-confidence can have a positive impact on their relationships with their partners and children.
Who is a Good Candidate for a Mummy Makeover
A suitable candidate for a mummy makeover is someone that fulfills the following criteria:
Has good overall health

Maintains or is close to their ideal body weight

Has no intentions of becoming pregnant again

Possesses a positive outlook and realistic expectations

Has successfully achieved weight loss before considering the procedure

Has undergone a C-section

Has given birth at least six months ago



While these are general guidelines on who is eligible for a mummy makeover, it is important to consult with a qualified plastic surgeon to determine if an individual meets the medical requirements for a mummy makeover, as individual circumstances vary greatly.
Are you a candidate for a mummy makeover?
A mummy makeover is typically recommended to women who have given birth at least six months prior surgery. Patients should also be close to their ideal weight, or not more than 4 to 9 kg (or 10-20 pounds) within the weight they want to achieve.
Moreover, ideal candidates for a mummy makeover should be in good health overall, and have no any underlying conditions that might pose a health risk during or after the procedure. A mummy makeover, moreover, is only recommended to non-smokers. Smoke slows down wound healing and can cause serious complications during and after surgery.
Each patient is assessed on an individual basis, so if you are unsure of your eligibility, please get in touch anytime – we're happy to assist you!
Mummy makeover pre-op: How do you prepare for surgery?
 Your pre-op guidelines before a mummy makeover vary depending on the procedures you undergo. We will provide you with personalised tips and guidelines to follow once you are all set to visit us at KCM Clinic. Generally speaking, we might ask you to perform a medical evaluation to assess your current overall health and we will also ask you if you take any medications regulalrly. You might need to stop taking or adjust them a few weeks before the procedure. Aspirin, anti-inflammary drugs and herbal supplements should also be avoided before surgery as they can increase bleeding.
How Much Does  a Mummy Makeover Surgery Cost in the UK? 
The cost of a mummy makeover in the UK can be anything between £10,000 and £15,000, depending on the specific procedures involved. The overall cost of a mummy makeover is also influenced by the surgeon's fees, the surgical location, and the type of anesthesia employed. Apart from the procedure costs, there are other expenses associated with a mummy makeover, including fees, medications, compression garments, and aftercare appointments.
Before going in for the procedure, it is crucial to consider all these costs before making a decision, as the total expense of a mummy makeover can fluctuate depending on individual circumstances. By factoring in all the associated costs, one can make an informed decision regarding this transformative procedure.
What Areas are Typically Worked on as Part of a Mummy Makeover
The specific areas that can be addressed in a mommy makeover vary depending on each woman's individual needs and goals. However, some of the most common areas include:
Breasts
Augmentation, lift, or both procedures may be performed to enhance the size, shape, and position of the breasts.
Abdomen
A tummy tuck, also known as an Abdominoplasty, can effectively eliminate excess skin and fat from the abdomen while tightening the underlying muscles.
Waistline
Liposuction can be utilized to remove excess fat from the waistline, hips, and thighs, resulting in a more contoured appearance.
Vaginal rejuvenation
Also known as Labiaplasty, this procedure can enhance both the appearance and function of the vaginal area.
Arms
An arm lift, or Brachioplasty, can effectively eliminate excess skin and fat from the upper arms, resulting in a more toned and youthful appearance.
Buttocks
Buttock Augmentation, or lift, can enhance the size and shape of the buttocks, creating a more balanced and proportionate figure.
The Recovery and Aftercare of a Mummy Makeover
Recovering from a mommy makeover involves a crucial healing period and adhering to specific aftercare instructions. Here are some valuable tips for recovery and aftercare:
Recovery:
A mommy makeover surgery typically takes four to six weeks to recover from. During this period, the healing process will continue for several weeks as swelling gradually subsides and the treated areas begin to take on a more desirable shape. In some cases, the actual duration of the healing period may vary from one to three weeks, depending on the specific procedures performed. It is worth noting that the mommy makeover tummy tuck procedure usually necessitates the most downtime and recovery time, typically requiring around six weeks.
However, after approximately six weeks to two months following the surgery, you should be able to resume your normal activities, including exercise.
Aftercare:
To ensure a successful recovery, it is imperative to diligently follow the aftercare instructions provided by your plastic surgeon. These instructions may include the application of gauze or bandages to your incisions, as well as the use of an elastic bandage or support bra to minimize swelling and provide support. Additionally, a compression garment may be recommended to control swelling in the abdomen, waist, and buttocks. 
Adhering to the prescribed medications as directed by your surgeon is of utmost importance. Proper wound care is essential, and it is vital to keep the incision sites clean and dry. Strenuous activities and exercise should be avoided until you receive clearance from your surgeon. Lastly, attending follow-up appointments as scheduled is crucial for monitoring your progress and ensuring a smooth recovery.
It is of utmost importance to consult with your plastic surgeon for personalized advice and guidance tailored to your specific mommy makeover procedure and recovery process. Their expertise will provide you with the necessary support and reassurance throughout the recovery period. 
A mummy makeover surgery provides women with an opportunity to regain confidence and feel comfortable in their bodies after pregnancy and childbirth. By addressing physical changes caused by pregnancy, such as sagging breasts, excess abdominal skin, and stubborn fat deposits, this transformative procedure helps women restore their pre-pregnancy figures and enhance their overall appearance. 
However, it is essential to consult with a qualified plastic surgeon to determine candidacy and understand the associated costs and recovery process. With the right guidance and personalized care, a mummy makeover can be a life-changing experience, empowering women to embrace their bodies and enjoy their post-pregnancy journey with renewed self-assurance.
Mummy makeover post-op: Recovery time
Recovery after a mummy makeover will vary depending on the type of surgery performed. There is no general post-op timeline after a mummy makeover, as it will be based on what type of surgery and how many procedures you underwent.
Generally speaking, if you had breast surgery, you will be given a specific bra to wear for the first four weeks. Moreover, you should wait at least one month before hitting the gym or do any strenous activity. Each body recovers at its own pace, so make sure you take the time to heal properly and get the support you need once you are back home after surgery.
Visits, hospital procedures
OMEGA Imaging Diagnostic Center