With the increasing prevalence of obesity, many people are now facing the risk of health complications like diabetes and heart disease. 
While certain people can effectively address obesity through medication, dietary adjustments, and lifestyle changes, others may need to explore weight loss surgeries as an option. Among the various surgical procedures available, the Single Anastomosis Sleeve Ileal Bypass (SASI), commonly known as SASI bypass surgery, has recently gained immense popularity.
At KCM Clinic, our team of experienced surgeons and medical professionals is dedicated to providing effective Single Anastomosis Sleeve Ileal Bypass (SASI) using state-of-the-art technology to help you achieve your weight loss goals.
How Does SASI Bypass Work?
SASI bypass surgery combines two effective weight loss techniques: sleeve gastrectomy and ileal bypass. 
The procedure begins with the creation of a smaller stomach pouch, similar to sleeve gastrectomy. This smaller pouch restricts the amount of food you can consume, leading to reduced caloric intake.
Next, the surgeon connects the newly created pouch to a lower part of the small intestine, bypassing a portion of the intestine where most calorie absorption occurs. By rerouting the digestive tract, SASI bypass surgery reduces the absorption of calories and nutrients from the food you consume. This results in further weight loss and helps in controlling certain obesity-related health conditions.
At KCM Clinic, our experienced medical team will guide you through every step of the SASI bypass journey, from preoperative consultations to post-operative care, making sure that your surgery is a success.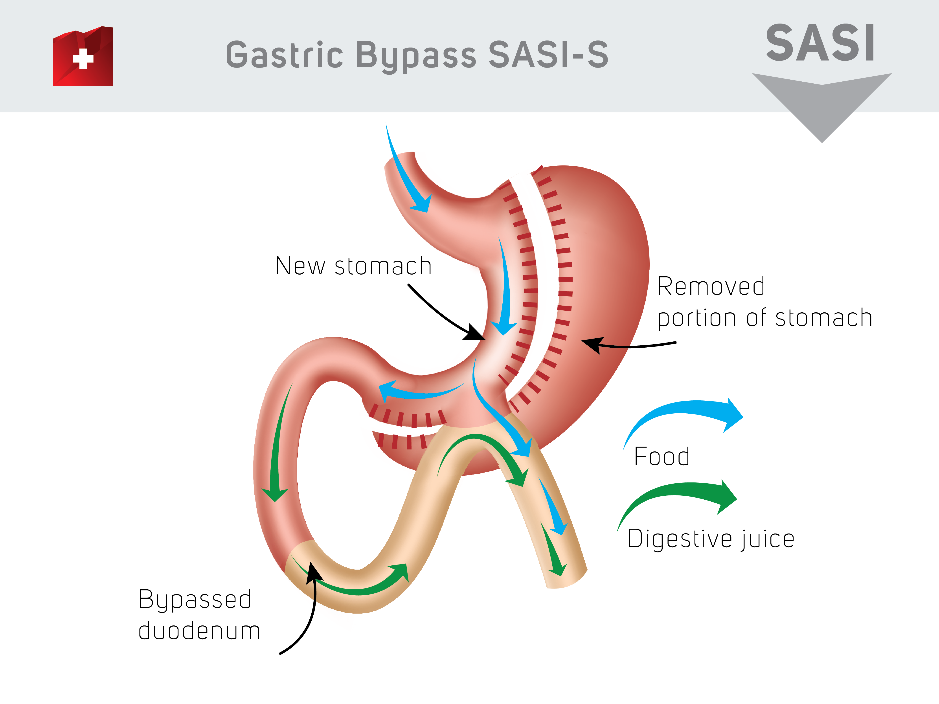 Benefits of SASI Surgery
Effective Weight Loss
ASI bypass surgery has shown promising results in helping patients achieve significant and sustainable weight loss. By restricting the amount of food you can consume and reducing nutrient absorption, SASI surgery can help you shed excess weight and improve your overall health.
Reduced Hunger and Cravings
The procedure helps control hunger hormones, resulting in reduced appetite and fewer cravings. This allows you to make healthier food choices and stick to a balanced diet, promoting long-term weight loss success.
Improvement in Obesity-Related Conditions
SASI bypass surgery has been associated with the improvement of various obesity-related conditions such as type 2 diabetes, high blood pressure, sleep apnea, and joint pain. By achieving and maintaining a healthier weight, you can significantly enhance your quality of life.
Minimally Invasive Approach
SASI surgery is performed laparoscopically, utilising small incisions and specialised instruments. This approach reduces the risks of complications, minimises scarring, and allows for a faster recovery compared to traditional open surgeries.
Reduced Risk of Nutritional Deficiencies
By preserving the duodenum, which plays a crucial role in nutrient absorption, SASI minimises the risk of developing nutritional deficiencies
How Much Weight Can I Lose With SASI?
The amount of weight you can lose with SASI depends on various factors, including your initial weight, individual metabolism, lifestyle changes, and adherence to post-operative guidelines. On average, patients can expect to lose a significant percentage of their excess weight within the first year after surgery.
Many people who undergo SASI bypass surgery achieve a weight loss of 60% to 70% of their excess body weight. This means that if you are 100 pounds overweight, you could potentially lose 60 to 70 pounds. It's important to note that results may vary from person to person, and it's crucial to maintain a healthy diet and exercise regimen to maximise your weight loss potential.
Cost of SASI Bypass in UK
At KCM Clinic, our priority is to provide patients with the highest-class medical care based on their individual needs and expectations. For over 10 years of working with overweight patients, we have developed, as a multidisciplinary team, an optimal package, containing a number of tests and consultations necessary to perform the procedure.
The Total Cost Estimate of the package includes:
Laparoscopic treatment – using J&J or Covidien staplers

Hospitalisation in a comfortable room with Wi-Fi and Netflix service

Comprehensive diagnostics and all preoperative consultations

Personal Coordinator at the Hospital and postoperative care plan

Personalised care from a clinical dietitian and psychologist along with a 7-week diet plan

Access to our patient support group – KCM Clinic – Weight Loss Surgery, Uk

Access to our youtube channel – KCM Bariatric Kitchen
NON-INVASIVE TREATMENT OF OBESITY
Visits, hospital procedures
OMEGA Imaging Diagnostic Center