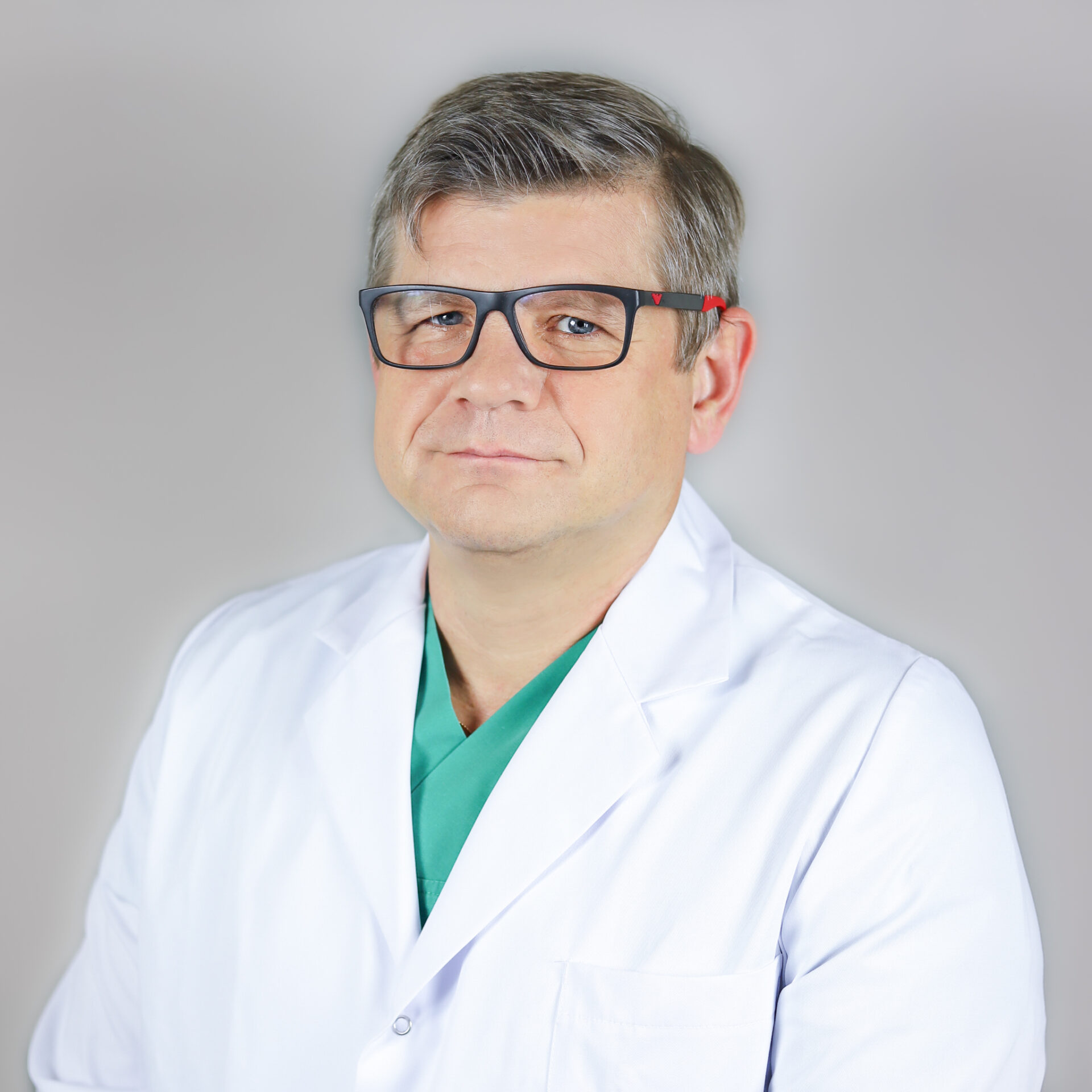 Dr n. med. Grzegorz Kowalski
Assoc. Prof. Dr. Grzegorz Kowalski, MD, PhD – General Surgery Specialist, Oncological Surgery Specialist, Bariatrician
A graduate of the Faculty of Medicine of the Medical University of Silesia in Katowice.
He gained his professional experience in the Department and Clinical Department of General and Endocrine Surgery of the Specialist Hospital in Bytom, as well as the Head of the General and Short-Term Surgery Department of the County Hospital in Świętochłowice and the Head of the General Surgery Department with the Metabolic and Barnominal Surgery Department, as well as in OSK Katowice-Ligotiators World Surgical Centers:
• European Institute of Telesurgery – IRCAD / EITS – HôpitauxUniversitaires, Strasbourg – France,
• European School of Laparoscopic Surgery – Saint-Pierre University Hospital, Brussels – Belgium,
• Aesculap Akademie, Tuttlingen – Germany,
• Endo-Sugery Institute, Cincinnati, Ohio, U.S.A.,
• Medical Expert Training Center General Surgery Kantonspital, Baden – Switzerland,
• Imelda Hospital, Bonheiden – Belgium,
• Covidien Tyco Healthcare European Training Center, Elancourt – France,
• Department of General −Vascular and Pediatric Surgery AZ Sint-Jan Hospital in Bruges – Belgium
• The Biomechanics Institute of Valencia (IBV), Valencia – Spain
• Nemocnice s Polikliniku v NovyJicin, Novy Jicin – Czech Republic
• Department of Medical and Surgical Digestive Diseases, Ecole Européenne de Chirurgie – EEC, Paris – France
• Amsterdam Medical Center, Amsterdam – The Netherlands
Expert of the Provincial Court in Katowice.
He specializes in oncological surgery, laparoscopic surgery in the field of general surgery and bariatrics, and in endocrine surgery. Author and co-author of numerous scientific publications.
Member of the Polish Medical Society,
Member of the Society of Polish Surgeons,
Member of the Videosurgery Section of the Society of Polish Surgeons,
Member of the Metabolic and Bariatric Section of the Society of Polish Surgeons.
Knowledge of languages:
English, Russian, Czech
Visits, hospital procedures
OMEGA Imaging Diagnostic Center